Emory University Law School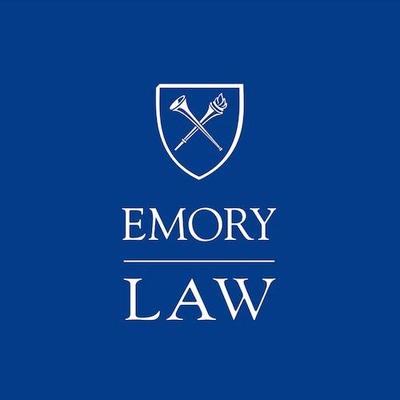 Ken Shigley earned his J.D. (Doctor of Law) degree in 1977 at Emory Law School. He served from 1998 to 2008 as a faculty member of the award-winning Trial Techniques Program for second year students, and later was an adjunct instructor of a class in small firm practice. He is also a Master of the Lamar Inn of Court, which is based at Emory.
Emory Law School admission is selective. For the class entering in 2017, only 238 new students were enrolled from an applicant pool of 4,117.
For whatever numerical rankings in national magazines may be worth, if anything, Emory is the top rated university and top rated law school in Georgia. Emory Law School ranks #26 among American law schools in U. S News, and #18 in LawSchool100.com. Overall, U.S. News ranks Emory University #21 among national universities.
Emory has become terribly expensive and student debt has become a crushing burden on new law graduates. When asked for advice by young Georgians aspiring to enter the legal profession, he suggests the part-time program at Georgia State University Law School as a more cost-effective, practical alternative, especially for those who plan to practice in Georgia.
---
Ken Shigley is a graduate of Furman University and Emory University Law School. He is a 2019 recipient of the "Tradition of Excellence" Award from the State Bar of Georgia General Practice & Trial Section.
Mr. Shigley has earned three national board certifications from the National Board of Trial Advocacy – in Civil Trial Law, Civil Practice Law and Truck Accident Law. He is a board member of the Academy of Truck Accident Attorneys, former chair of the American Association for Justice Motor Vehicle Collision, Highway & Premises Liability Section, which includes the Trucking Litigation Group.
He is lead author of Georgia Law of Torts: Trial Preparation and Practice, now in its tenth annual edition with Thomson Reuters West. His law practice is focused on catastrophic injury and wrongful death including those arising from commercial trucking accidents and those involving brain, neck, back, spinal cord, amputation and burn injuries.
In 2011-12, Mr. Shigley was president of the State Bar of Georgia, which includes all the lawyers and judges in Georgia. He also is a former chair of the Institute for Legal Education in Georgia (board member 2008-2019, chair 2012-13), State Bar of Georgia Tort & Insurance Practice Section (1994-95), and the Georgia Insurance Law Institute (1994).
A former prosecutor and former insurance defense lawyer, Mr. Shigley is a widower, father of two adult children, and an elder in his church.