Gwinnett County
Gwinnett County Injury Lawyer
Gwinnett County the second most populous of Georgia's 159 counties, ranking only behind Fulton County. The population of Gwinnett County is 920,260 in 2018, out of nearly 6.7 million in the 39-county Atlanta-Athens-Sandy Springs metropolitan area metropolitan statistical area.
Gwinnett County was founded in 1818, and named after Button Gwinnett, one of three Georgia signers of the Declaration of Independence. It was formed by combining tracts of land taken by Georgia from the Cherokee and Creek Indians and a portion of Jackson County.
The first Gwinnett County courthouse was a log cabin home in Dacula. A more permanent courthouse was built in the center of the county by 1824, and by 1850 the surrounding town of Lawrenceville had a population of 11,257, several times larger than Atlanta which then had a population of 2,572. In 1871, a courthouse fire destroyed most early records and deeds. A replacement courthouse on the square in Lawrenceville lasted only 12 years before it was found inadequate. In 1885, the building on the square now known as the Historic Courthouse was built at a cost of $23,000. We tried cases in that courthouse until it was replaced in 1988 by the Gwinnett Justice and Administration Center, sometimes referred to as the "Law Mall."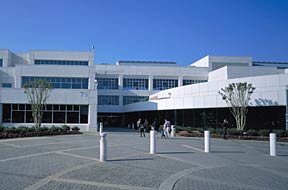 For many years, it was almost impossible to obtain an adequate jury verdict for a major injury or wrongful death case in Gwinnett County. That has changed dramatically. In the 1980's and 1990's, we often declined cases in which Gwinnett County was the only possible venue due to the paltry record of jury verdicts there. Now, as a major urban jurisdiction with a diverse jury pool, Gwinnett County in recent years has seen several of the most significant jury verdicts in Georgia.
The courts in Gwinnett County include Superior Court of Gwinnett County, State Court of Gwinnett County, Juvenile Court of Gwinnett County, Magistrate Court of Gwinnett County, and magistrate courts of various municipalities.
Substantial civil cases are litigated in Superior Court and State Court. We have practiced in both of those courts as cases have arisen over the past three decades.
The Superior Court of Gwinnett County has general jurisdiction in all civil cases with venue in Gwinnett County, divorce cases, and felony criminal cases punishable by death or imprisonment for one year or more. Because of the heavy criminal and domestic relations dockets in Superior Court, many lawyers choose to go to State Court for civil cases that do not require equity jurisdiction, e.g., injunctions. The Judges of Gwinnett Superior Court include Chief Judge Melodie Snell Conner, Judge Debra K. Turner, Judge R. Timothy Hamil, Judge Ronnie K. Batchelor, Judge Tom Davis, Judge Warren Davis, Judge Karen E. Beyers, Judge Kathryn M. Schrader, Judge George F. Hutchinson III , Judge Randolph G. Rich, Senior Judge K. Dawson Jackson, and Senior Judge Fred A Bishop Jr.
The State Court of Gwinnett County has jurisdiction over all civil damages cases that do not require equity jurisdiction for injunctions, etc., and misdemeanor criminal cases. Most civil damage suits for serious personal injury and wrongful death are filed in State Court. The judges of State Court include Chief Judge Pamela D. South, Judge Joseph C. Iannazzone, Judge Carla E. Brown, Judge John Doran Jr., Judge Emily J. Brantley, Judge Shawn F. Bratton, Senior Judge Howard E. Cook and Senior Judge Robert W. Mock Sr.
Magistrate court has civil jurisdiction over small claims up to $15,000. There are also municipal courts of Auburn, Berkeley Lake, Braselton, Buford, Dacula, Duluth, Lawrenceville, Lilburn, Loganville, Norcross, Peachtree Corners, Snellville, Sugar Hill, Suwanee. Municipal courts deal with traffic tickets and local ordinance violations.
We do not handle traffic tickets, family law or small claims, and do not ordinarily go to Magistrate Courts or municipal courts unless it is to monitor a traffic court proceedings of someone who injured our clients.