DeKalb County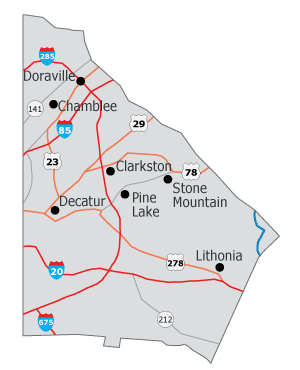 Dekalb County Injury Lawyer

Our statewide litigation of wrongful death and catastrophic cases throughout Georgia often takes us to the courts of DeKalb County, which is visible from our office windows.

DeKalb County is the fourth most populous of Georgia's 159 counties, with estimated 2018 population of 753,253. It includes Decatur, the county seat, about 10% of the City of Atlanta, and the municipalities of Avondale Estates, Brookhaven, Chamblee, Clarkston, Doraville, Dunwoody, Lithonia, Pine Lake, Stone Mountain and Tucker.

DeKalb County was established in 1822, carved from portions of Henry, Fayette and Gwinnett Counties. It was named for Baron Johann de Kalb (1721-1780), a Bavarian-born former officer in the French Army, who fought for the Continental Army in the American Revolutionary War. Fulton County (Atlanta) was formed out of the west side of DeKalb County in 1853. During the Civil War, much of the Battle of Atlanta was fought in DeKalb County. Until the 1950's, DeKalb County was mostly agricultural. The first wave of suburban sprawl from Atlanta engulfed DeKalb County in the 1950's and 1960's, so that it is now mostly urban.

DeKalb County is the home of Emory University, the U.S. Centers for Disease Control and Prevention, and the Decatur, Clarkston and Dunwoody campuses of Georgia State University. DeKalb is served by I-20, I-85, I-285 and the Stone Mountain Freeway. It is the site of Peachtree-DeKalb Airport, a major general aviation hub. Stone Mountain Park is a major recreational asset.

The courts in DeKalb County include the Superior Court of DeKalb County, State Court of DeKalb County, Juvenile Court of DeKalb County, Magistrate Court of DeKalb County, and municipal courts of each of the municipalities.

As a major urban jurisdiction, DeKalb County has seen some of the more significant jury verdicts in the state, though other counties have caught up. Substantial civil cases are litigated in Superior Court and State Court. We regularly practice in both, in DeKalb County and throughout Georgia, and handle appeals from those courts as needed.

The Superior Court of DeKalb County has general jurisdiction in all civil cases with venue in DeKalb County, divorce cases, and felony criminal cases punishable by death or imprisonment for one year or more. Because of the heavy criminal and domestic relations dockets in Superior Court, many lawyers choose to go to State Court for civil cases that do not require equity jurisdiction, e.g., injunctions. The judges of Superior Court are Courtney Johnson (chief judge), Asha F. Jackson, Clarence F. Seeliger (retirement pending), Gail C. Flake, Gregory A. Adams, J. P. Boulee (appointment to U.S. District Court pending), Daniel M. Coursey (retirement pending), Linda W. Hunter, Mark Anthony Scott and Tangela Barrie. DeKalb Superior Court uses mandatory e-filing through Odyssey eFileGa.

The State Court of DeKalb County has jurisdiction over all civil damages cases that do not require equity jurisdiction for injunctions, etc., and misdemeanor criminal cases. Most civil damage suits for serious personal injury and wrongful death are filed in State Court. The judges of State Court include Alvin T. Wong, Stacey K. Hydrick, Wayne M. Purdom, Johnny Panos, Mike Jacobs, Dax E. López and Janis C. Gordon. DeKalb State Court also includes Traffic Division Judges who may be called to sit by designation on civil calendars. Those include Kiesha Storey, Brian Ross, Shondeana Morris and Ronald Ramsey. DeKalb State Court utilizes mandatory e-filing through Odyssey eFileGa.

Magistrate courts have civil jurisdiction over small claims up to $15,000. We do not handle traffic tickets, family law or small claims, and do not ordinarily go to Magistrate Courts or municipal courts unless it is to monitor a traffic court proceedings of someone who injured our clients.